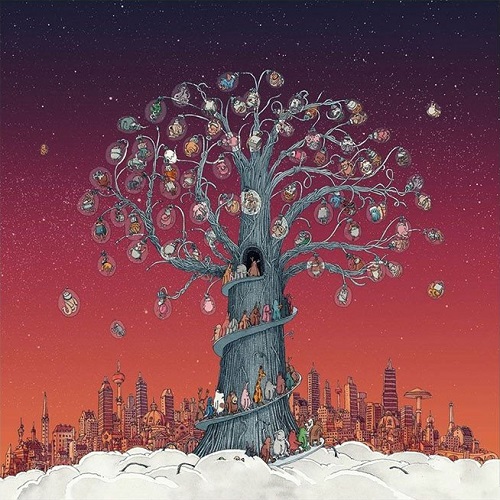 How do I even begin this review? Ever since re-discovering today's band in 2013, my musical taste and horizon has widened to lengths that I would have never imagined, I've overcome personal limitations, partially, due to their music, and I don't think that I've ever enjoyed listening and really getting into music more in all the years prior to today. Basically: Dance Gavin Dance changed my life drastically and you can imagine my excitement when I got the chance to listen to their eighth full-length, Artificial Selection, ahead of its release this Friday, June 8th. So let's dig in!
First off, some facts for the uninitiated: DGD is, or rather was, known for frequent member changes, especially when it came to clean vocalists, ever since their inception in 2006 and with the release of their 2013 record, Acceptance Speech, they had reached clean vocalist number three: Tilian Pearson, previously of Tides Of Man. However, the band had struck gold, and started gaining a lot of traction with the follow-up Instant Gratification barely a year and a half later. The success was apparent when they followed that one up a bit more than a year later by their, arguably, best received album to date: Mothership. It comes as no surprise that expectations were extremely high when the quintet announced their fourth record in a row with no major line-up changes and to take the suspense ahead of time: they delivered on every level.
Full disclosure: I am probably the least unbiased person you can come across when it comes to Dance Gavin Dance, but hear me out here.
Artificial Selection is, in my opinion, the band's most accessible record while at the same time featuring some of the most hard-hitting songs that will even blow long-time fans away. During the fifty-two minutes, technically the band's longest record, there is not a single filler song and every track has enough individual highlights, be it in the instrumental or the vocal department, to make fast forwarding a sin. While the vast majority of ArSe is post-hardcore, the band also adds elements of genres that they've never truly dabbled in, like pop-punk on Story Of My Bros, and manages to incorporate even more pop-sounding elements without ever losing their edge.
While the guitar work has always been stellar on every DGD release, I feel like the bass guitar and the drums definitely steal the show this time around. Among these fourteen songs are, I would say, some of the best bass lines in not-so-recent memory that stand out so well, largely due to the really on-point mixing job, and mesh perfectly with the drums.
It is no secret that the "who is the best vocalist" debate has and always will be a major talking point in the fan community. But I think that if some people still aren't convinced that this vocalist constellation is the ideal one for the band as a whole, it is time for them to move on. I am absolutely "all in" and I'm impressed by the minor tweaks, such as more intentional straining and a controlled raspiness, in some passages and super catchy vocal melodies in others. The screams remain largely unchanged, because let's face it: they were perfect to begin with.
Two major highlights come in the form of the first vocal features since the self-titled album, ten years ago, by none other than former singer Kurt Travis on Shelf Life, as well as Andrew Wells, the band's touring guitarist and vocalist of the criminally underrated band Eidola, on Evaporate. Both guest spots elevate the respective songs to a whole new level and make them definite stand-outs!
All in all, Dance Gavin Dance have managed to maintain, even surpass, their extremely high standards, and deliver another masterpiece with Artificial Selection. I really wish that more people, especially here in Europe, would discover the genius that hides behind these guys' music, and I will continue to spread the word as much as possible. So, do yourself a favor and check out the song below, then head over to the band's Facebook page to keep up to date with their news, finally just jam this record once it's out…you won't be disappointed.
[youtube https://www.youtube.com/watch?v=jJULfw3xVas]