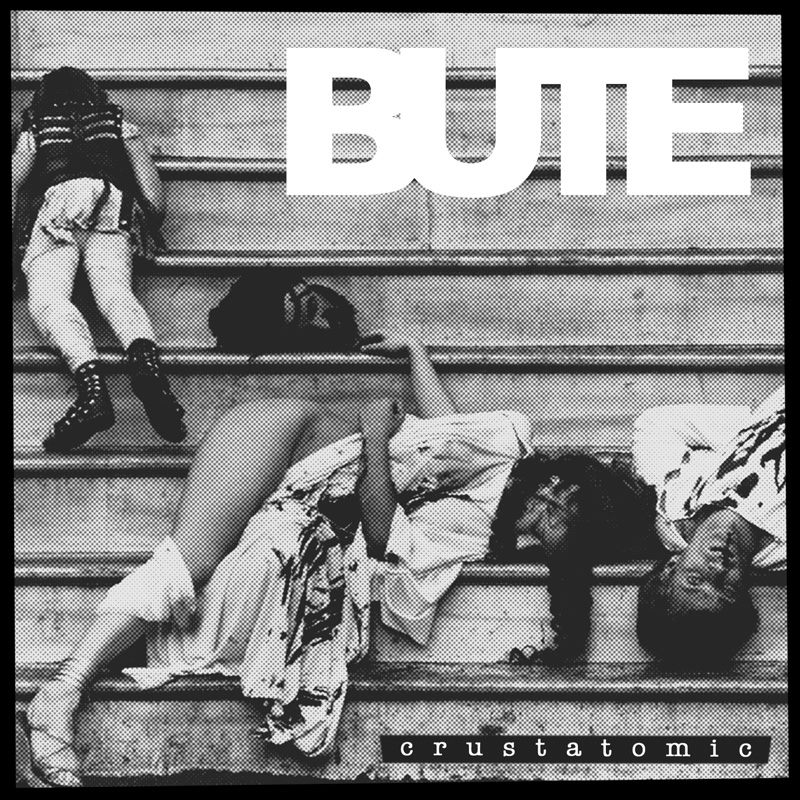 Crustcore/Punk, Powerviolence have re-gained a lot of "popularity" over the last years and like every time something gets popular, cool and trendy the market becomes congested and newbies find it difficult to distinguish and to pick up the best stuff (although this is subjective most of the time). If you are an amateur when it comes to Crust, you absolutely have to check out pioneer bands like Amebix, Doom, Crass, Discharge and co. If you are into the genre I don't tell you something new but instead have something "different" for you: BUTE
The French duo was formed in late 2012 and they released their first Ep In Trust We Crust in October and it really hit me. Soon after, I discovered that they would record a second Ep in March and I decided to make some publicity for the newest 9 song output, Crustatomic.
To make it simple, BUTE play modern and violent Crust/Powerviolence. The music is dirty, the tempo is fast, the voice consists of aggressive shrieks and shouts and everything is over in +/-16 min. Whereas the In Trust We Crust record was more Grindcore/extreme metal orientated the band took a different, a more punk-ish approach on Crustatomic, which gets quite obvious in songs like Fils de Bute, Die 4 Diy and Scorebute. In the end all you hear is some honest music with a lot of humour embedded in a DIY Punk corset. BUTE certainly did not invent a new genre or play something completely new but they somehow managed to create a unique sound, which may be due to the drum computer the band uses. Talking about the drum computer, I have my first (and only) complaint. Personally, the drum machine is not a bad idea at all but I also think that with a real drummer the music would gain momentum. As mentioned before, Crust is a  dirty and raw extreme subgenre where a perfectly timed drum machine seems to be an overkill sometimes.
Give these guys a chance! Listen to the Ep on their bandcamp. Share the music and support DIY Punk!